The Future of Work Is About Enhancing Humanity, Not Replacing It
Automation threatens the jobs of more than 800 million, "mainly people in the front line and middle managers," Julien Lesaicherre, EMEA director, Workplace by Facebook, told a 200-strong audience at the Future of Work Summit today.
"Automation can change the world. This will impact the lives of millions of people, but also automation is reshaping business. In ten years 40% of the Fortune 500 won't exist. We will have to change, we will have to adapt, we will have to evolve the way we do business," Lesaicherre stressed.
He emphasised the need to use technology to "enhance" people, not replace them. "If you read the news today, it seems like having a lot of people is a liability. I think having a lot of people is an asset, but you have to use them properly and enhance them," Lesaicherre explained.
He cited how Apple have done this in stores, where staff are given the equipment to check stock, make sales, place orders — all from a customer-facing position.
By 2020, 50% of the workforce will be millennials, but Lesaicherre was quick to point out that it is "not about the technology they use, it is about understanding how they want to work."
For Lesaicherre, this is about working as a community and he demonstrated how companies are using Workplace by Facebook to facilitate this.
These changing working practices were picked up by James Poulter, head of Emerging Platforms & Partnerships at the Lego Group. He described how the Danish toy brick giant wanted to recreate the family feel of its Denmark HQ in its workspaces.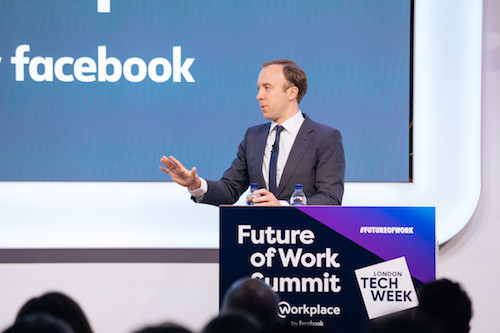 Matt Hancock MP, UK Secretary of State for Digital, Culture, Media and Sport.
Poulter explained: "It's been described as 'hot-desking on steroids,' but it is more than that — it is about finding the right environment to do the work you've got to do."
For Lego, this means creating a variety of environments. "We have open spaces, meeting spaces and quiet spaces — as well as one eating space, no eating at your desk. This creates a culture that is much more unique. It forces a leveling of the workplace."
The idea of a more level workplace was picked up on a panel on the impact of technology on leadership. Rachel Coldicutt, CEO of Doteveryone UK, said: "In a mission-driven world, it is important for leaders to let their employees be who they are and build on their strengths."
It is no longer a matter of leading from the front, as Priya Guha, ecosystem general manager at RocketSpace UK tech campus, explained: "Some of the best leaders are ones that can both see in a strategic way but alongside that the ability to 'trust their guts.' It's the ability to do that that turns some ordinarily successful people into really fantastic ones."
Without doubt, technology, especially automation and AI, will have a profound effect on future workforces; a point that was acknowledged by Secretary of State for Digital, Media, Culture and Sport Matt Hancock in his keynote address. "The risk is not that we remove jobs, because that is the nature of business. The risk is not adopting new technologies and failing to create the jobs of the future," he told attendees.
As a government, he explained: "We need to support the disrupted, as well as supporting the disruption. We want to redeploy not unemploy people."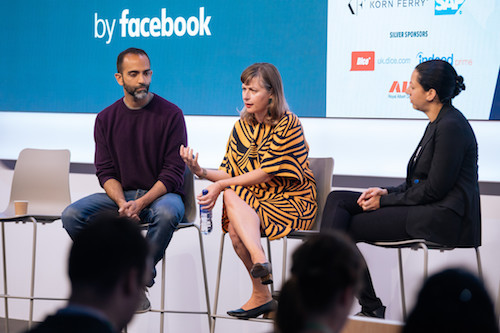 From left-right: Amrit Dhir, Google; Rachel Coldicutt, Doteveryone; and Priya Guha, Rocketspace.
The Summit also heard about the potential of technology to encourage diversity in the workplace. In a passionate presentation, Angela Evans, UK business group lead of Microsoft 365, said: "Our mission is to empower every person and organisation on the planet to achieve more." She attempted to demonstrate the headway Microsoft was making in helping overcome disability using technology.
Helen Rosethorn, a partner at Prophet, said of the demonstration: "I was struck immediately how technology will help underrepresented people make better headway in the workforce."
She discussed future skills and the need to readdress what the word "skills" meant in an era of constant change. "I am concerned how we are thinking about what skills mean. The phrase 'what do you want to be when you grow up?' is much harder to answer these days."
Guha stressed that while we don't necessarily know what the jobs of the future will be, we could teach them "how to be adaptable and embrace change".
While people in tech were generally optimistic about the future, event chair techUK President Jacqueline de Rojas questioned whether automation will increase diversity.
Anastasia Dedyukhina, author and founder of Consciously Digital, replied: "It is data bias that is the issue. They key to overcoming this is diversity in the data we use."
Guha agreed, but added: "I like to look for the opportunity." She cited the example of FemTech. "When there was just 50% of the population designing products in this context [of bias], then there is a whole market being missed out."
"The rise of FemTech is astonishing. There is a whole area that has just been missed and there are people who are going to make a lot of money out of it.
Governing the use of AI and automation, Dominic Holmes, a partner in employment law at Taylor Vinters, stressed that when you are using AI to decide whether someone is promoted, hired or fired, you need to be careful, adding that all these tools needed to be used ethically.
The future of work, according to today's panel, looked bright as long as technology was applied ethically, as suggested by Holmes, and used to enhance humans rather than replace them.
Armed with the right training and tools, robots aren't replacing humanity any time soon.
— Niall Hunt, Digital Transformation Lead – Content and Communities, Informa